Published on April 12, 2022
Brian Stuhlman came to the Missouri Scholars Academy its first year in Mark Twain Hall, 1993.
Stuhlman had never disliked his experience growing up in the small northeastern town of Palmyra, but he was pleasantly surprised by the new opportunities offered by the ragtag, academic culture at MSA. All curiosity was welcomed.
"I had never experienced the zing effect: that it was not only possible but cool to sit down with somebody you didn't know and have an intellectual conversation where you didn't agree," he said.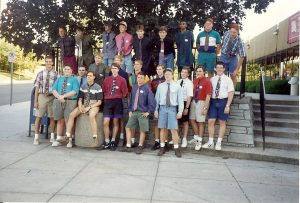 At MSA, Stuhlman took courses in philosophy and math. Although he'd planned to pursue a career in math when he arrived at the academy and he enjoyed Ake Takahashi's course in it, Stuhlman had second thoughts after being introduced to calculus. Liking math or even being good at math, he decided, didn't mean he needed to pursue a career in it.
After studying secondary education at MU, Stuhlman began teaching high school in Fayette, where he hoped to recreate that "zing effect" in his own classroom. A Harlem Renaissance project in his Ethnic Literature class marked a watershed in Stuhlman's approach to teaching. Bolstered by the level of engagement and student participation in his MSA experience, Stuhlman created opportunities for his students to engage with culture more broadly, such as by preparing soul food.
"A group of three girls who were related brought in a feast, the whole layout, and that was the turning point for me…that their experience is something that I can't teach." Stuhlman said. "It's something I can learn from, and it made me reevaluate what I had to teach. I teach kids, I don't teach English; though I kind of have to teach both at the same time."
Around this time, Stuhlman was asked to return to the academy as a staff member. He first worked as a "cadet" assisting another instructor, before offering a minor that became his signature major course, "It's the End of the World As We Know It." The course seeks to immerse students in various forms of art firsthand, from impressionism to cubism, and guide them as they attempt to create it.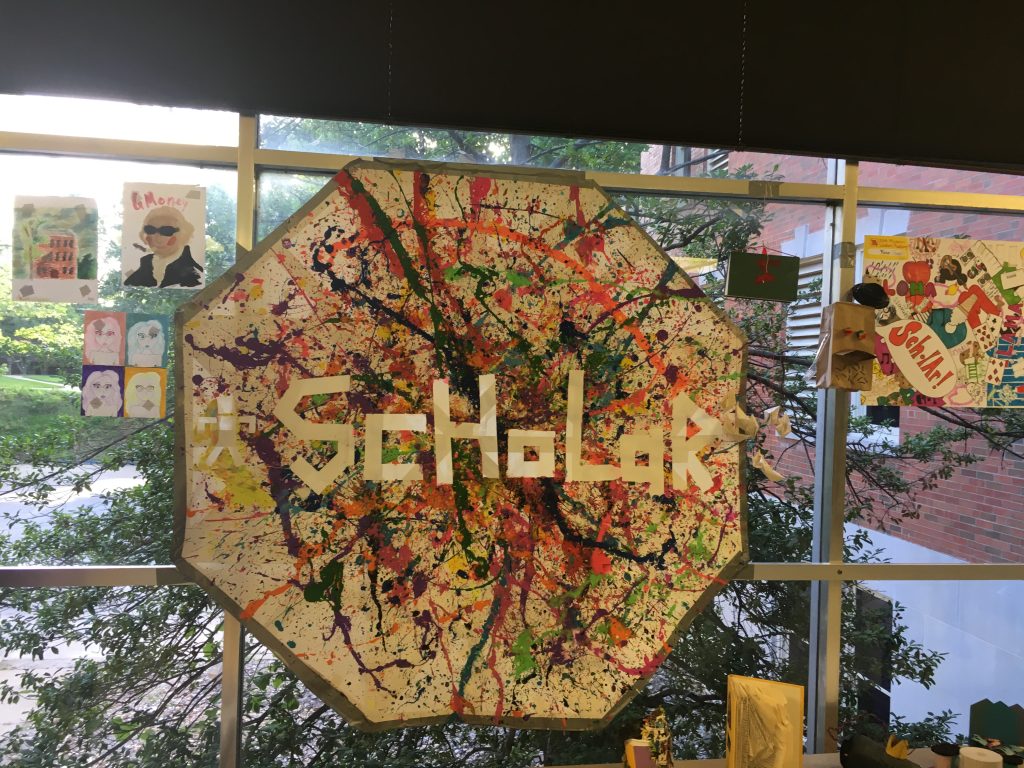 The course gives scholars "the opportunity to find different perspectives on stuff they've been seeing forever, and will see forever, and find ways to think about it and talk about it," he said.
After a few years of working with MSA and teaching in Missouri, Stuhlman set off to see the world.
Fish Out of Water
His first stop was Iowa.
Stuhlman attended a hiring fair, and got five job offers to teach internationally. He had to choose between teaching in San Paulo, Brazil; Taiwan; Turkey; and Ukraine. Stuhlman took a job at Pechersk School International (PSI) in Kyiv. In those days, he didn't know much about it, he said, "but Ukraine is what got me closer to Europe."
Stuhlman boarded a 5,000 mile flight to the second largest country in Europe with just a pair of suitcases. His only prior international travel had been a six-hour jaunt into Canada.
At first, he was a bit lost in the unfamiliar culture. Just ten years after the dissolution of the USSR, it was a time of cultural change and reevaluation. During his first Independence Day in Ukraine, Stuhlman remembers lingering vestiges of Soviet adornments in Kyiv: the hammer and sickle on the side of public buildings, a statue of Lenin.
Stuhlman spoke only English when he arrived but wanted to fully embrace and learn from Ukrainian culture. One early challenge occurred at a counter-service market when he needed eggs but lacked the word for them and found none to physically point toward. Since he was unable to translate his request, he posed and squawked like a chicken. Suddenly, he was warmly assisted and looked after by the store's operators, who quickly became his friends.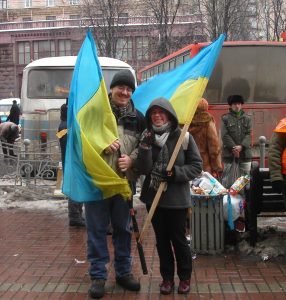 Intent to learn more, Stuhlman asked Igor, the bus driver who brought him and the other new teachers in from the airport, to take him out and show him what it meant to be Ukrainian. Igor had been a driver during the evacuation of Chernobyl and briefly worked as a truck driver in the U.S. before returning to Kyiv. In a short time, Igor became one of Stuhlman's best friends.
"I got adopted," Stuhlman said.
Igor introduced Stuhlman to their colleague Lilia, and the two conspired to bring Stuhlman on a group picnic with other Ukrainian staff members, including his future wife, Maryna. The group sat around telling stories, singing, dancing, and laughing for hours.
While teaching in Ukraine to kids who were fluent in five languages, Stuhlman had to once again refine and adjust his teaching.
"You've got to let them bring what they know and just kinda sit back and step off the dais and learn together." He continued, "That's what International schools gave me: I'm not an expert in anything and I don't have to be. We're gonna teach ourselves and we're gonna teach each other. I learned to be vulnerable to it, to not have to be an expert."
A Return to Missouri
Stuhlman moved back to the United States with his wife in 2006. Both took jobs at Warrenton High School, and Stuhlman resumed work with MSA. His daughter Lilia was born during the final week of the 2009 academy. She's named after Maryna's boss who engineered their meeting with Igor. Stuhlman missed a day or two of class but had a teaching assistant ready to step in, and Lilia has made an appearance at each academy since.
In his first years back, he spent several years trying out several minor courses in addition to his major. He debuted courses in jazz and humor but spent the most time teaching "Overture, Hit the Lights!: A Critical View of Children's Media." Its aim was to help students understand the ethical concerns of taking source materials and morphing them into culturally homogenous products for consumer popularity.
"Is it okay if it's a book and you're taking an artistic license?" he asked the students. "Is it okay considering there's a whole generation of kids now who say they know the hunchback of Notre Dame, and they don't really know the real story… Or with Pocahontas: what if it's a real person's life and that's not how it worked out for her?"
Through the years, Stuhlman has continued teaching "It's the End of the World As We Know It" and said he loves the unexpected nature of how students interpret the course.
"To feel like the dumbest one in the room, as a teacher, is humbling but also exciting, and I'm often in that position," he said. "It's challenging to be amongst that academic level that many of those scholars are and just marvel, and still find ways to make an impact."
Stuhlman's son Oscar was born just before the 2014 academy. In 2015, Brian became the director of programming.
Although coordinating dozens of events across three weeks is tricky, he enjoys the challenge. He treasures getting to know the guest lecturers beyond their stage presence and getting to call them friends. He's been able to connect with Holocaust survivors Hedy Epstein and Rachel Miller, Rwandan Genocide survivor Caritas Habimana, astronauts, and jazz pianists.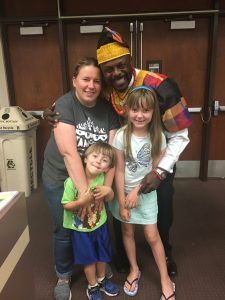 In recent years, scholars have been able to hear lectures from researchers, specialists, and artists from a diverse range of fields. MU Biology Professor Tom Phillips spoke on stem cells and CRISPR sequences. Humanities and Music Professor Maya Gibson gave a presentation on the "father of American music" Stephen Foster. Other guests have included lawyers and exonerees from the Midwest Innocence Project, American Sign Language interpreter Katherine Wortmann, Nigerian Arts Ambassador Ibiyinka Alao; Scrabble champions Scott Garner and Marty Gabriel; and Grammy-nominated spoken word artist Milbre Burch. Singer songwriter Joe Goodkin even performed his latest album "The Blues of Achilles".
George Smith, winner of the 2018 Nobel Prize in chemistry, once ran into Stuhlman downtown during his major lesson on graffiti and took the opportunity to speak on its political significance.
In recent years, despite being challenged with MSA's switch to virtual modality, Stuhlman has continued to find new ways to expand and refine his teaching.
"It made me research things I hadn't (researched) in years, that I thought I didn't need to," he said. "It made the course better."
This year, the Academy is slated for an in-person return to MU's campus.
Looking for Relief
Amid his programming work for the 2022 academy, Stuhlman has been holding dear family, friends, and former colleagues in Ukraine since the Russian invasion February 24th.
His mother-in-law, "Mamochka", has been sheltering with family members in Kyiv. Stuhlman's family has taken comfort in talking with her each day. And Mamochka has been at work helping neighbors with mobility issues access groceries and supplies when it's safe.
Sounds of gunfire, artillery, and emergency alarms have woken them, but they've had access to food, heat, and electricity thus far.
While many of his former colleagues and students fled, along with 4.5 million other Ukrainians who are now refugees, millions of others are displaced within the country. Men aged 18 to 60 are banned from leaving the country. Transgender and gender non-binary people face additional challenges crossing the border or gaining entry to Poland and Hungary, where their gender identities may not be recognized.
Stuhlman penned a column for the Columbia Missourian regarding his and his family's experience in this conflict.
Concerned readers who wish to help can support relief from a variety of sources. Save the Children and Unicef provide aid in both the Ukrainian conflict and war in Yemen, where deaths recently surpassed 400,000. Unicef is also collecting donations for relief in Syria, and global vaccination initiatives, as roughly 3 billion people remain unvaccinated worldwide.
Pechersk School International is accepting donations so they can continue paying full salaries to employees, and the World Central Kitchen has provided over 300,000 daily meals to Ukrainians since the invasion.