The Standing Ovation Award recognizes an MSA faculty member or RA who exemplifies the highest ideals of the Missouri Scholars Academy.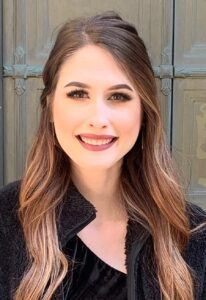 As one of her nominators wrote, "Dani had a huge impact on scholars. Not only did the scholars love class content, but her afternoon programs were lasting topics of conversation. She was very present at evening programs, dances, and helped several scholars through personal challenges throughout the academy. These examples speak to Dani's dedication to MSA and I cannot think of anyone more deserving of the Standing Ovation award." This year, 2019, we are delighted to present the Standing Ovation award to faculty member Dani Eschweiler.
Dani has a long history with MSA. She was first a scholar in 2011. Her major was To Infinity and Beyond, where she left a lasting impression on her teacher, Frank Corely: "Some scholars in that class were minor players, but then again, with Dani in there, so was I." She left such an impression, in fact, that Frank encouraged her to apply as an RA for the 2018 academy, and we were glad she listened! Dani was paired with Doug Valentine for the Personal and Social Dynamics seminar that summer. "Dani," he remarked, "brought life to our conversations, supported me as a co-teacher, cared deeply for our scholars, and encouraged us to build community, practice courage, and take it home into Week 4." 2018 alum Audrey Snodgrass wrote, "Dani brought lots of sarcasm and humor to PSD without making anyone feel judged or uncomfortable. Even though she wore everything black most of the time, she brought a lot of warmth and sincerity to very serious conversations." Dani's natural ability in the classroom made it an absolute no-brainer when she asked if she should apply for a faculty position the following year.
This past summer, Dani taught a minor class titled The Hitchhiker's Guide to the World Weird Web, or as the scholars lovingly called it, "that meme class." Through her thoughtful use of literary theory, critical race theory, feminism, queer theory, and other analytic lenses, Dani exposed her scholars to advanced debates in the worlds of the social sciences and humanities by making those discussions immediately relevant and accessible. Anyone who thinks her class was only about memes wasn't paying attention. One of her scholars Harbor Wolff said it best: "There are a few special people you meet in life who completely change you and open you up to new ideas and new perspectives. Dani is one such person. She helped me to understand society from a whole new point of view. She has the aura of a great leader but is never arrogant or entitled. She walks the line perfectly between being a teacher/mentor and being a friend. She can maintain a serious classroom environment while still allowing dry and crass humor to flourish beautifully (as it should!). I am glad to have known such a monumental person, and I am glad to have been changed as a person by her." In addition to her minor, Dani offered numerous afternoon programs, including talks on the Salem Witch Trials, the beauty industry and its corrosive effects on women, and a sociological analysis of the US education system. You only needed to see the size of the crowds at these programs to know scholars were picking up the truth that Dani was dropping. More than a few times, scholars approached MSA staff to ask, "do you know if Dani is going to give any more talks?" It was great to watch Dani grow as a faculty member over the course of the Academy. The time and effort she put into her minor class and afternoon programs, much of which went unseen, encouraged at least one faculty member "to be a better and more thoughtful teacher," Doug Valentine admitted. "I can't wait to see what she does with a major in 2020."
Dani's other colleagues also saw the impact of having her at the academy. Faculty member Jenn Fisher explained, "Dani is unapologetically herself – take it or leave it. She completely throws herself into MSA each summer, and she spends a significant amount of time preparing to make sure the experience of her scholars is incredible. She loves MSA, and MSA loves her." RA River Pich enthused, "Dani is everything I could've asked for in a friend and MSA mentor. She says what she means and means what she says, and she never gives up on anyone. Her honesty, humor, and empathy allow her to be the kind of person that makes MSA so transformative, not just for scholars but for faculty and staff, too." Finally, Dani's 2019 co-facilitator Nick Waters added, "Dani is one of a kind, so uniquely and confidently herself. She enjoys dishing out playful insults, sarcastic comments and penetrating quips, but she grants respect and love to her friends and especially her scholars to a degree that I have rarely seen. I was so lucky to work beside her in the classroom as a co-facilitator. Almost every day she would tell me about wonderful discussions her class had fostered, usually through a derailment of her lesson plan. Despite daily having to redevelop her lessons and goals, she would constantly gush about how intelligent, thoughtful and inspiring her scholars were. As I look toward becoming a teacher, myself, I can only hope to espouse even a modicum of her teaching prowess and her compassionate nature."
Doug Valentine, who presented Dani with the award at the Fall Reunion, said it humorously but rightly: "I've called Dani many things – RA, co-fac, fellow faculty member, goth, Stacy, what it would look like if a Sephora truck crashed into a Hot Topic, but my favorite thing to call her is 'one of my best friends.' I'm happy to add 'Standing Ovation recipient' to that list." As are we all!
We're a better academy for Dani's contributions, and we couldn't be more excited to honor her with this award. Congratulations, Dani!