The Standing Ovation Award recognizes an MSA faculty member or RA who exemplifies the highest ideals of the Missouri Scholars Academy.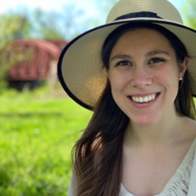 The 2022 recipient: Jenny Blank
MSA is delighted to announce that this year's Standing Ovation award goes to MSA Coordinator of Residential Life, Jenny Blank!
When asked why they thought this year's recipient deserved the award, one nominator replied with "is this rhetorical?"
Among faculty and staff alike, Jenny Blank is an obvious a choice for this wider recognition.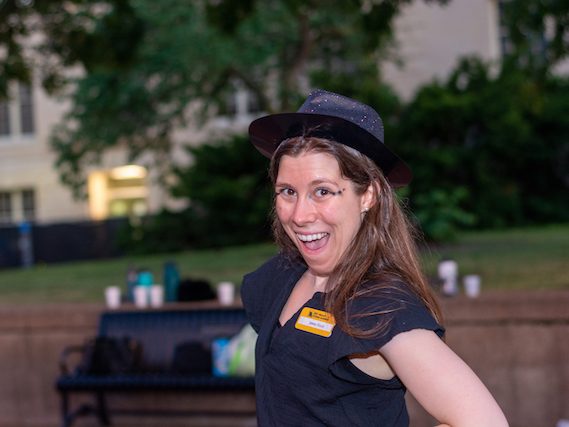 Long before her current position as Coordinator of Residential Life, Jenny was a scholar herself in 2006. She then returned as an RA for the 2009 and 2010 Academies, where many people first got to know her as a leader. Brian Stuhlman wrote, "When I think about Jenny Blank and her time at MSA, I would note her sincere energy and ebullience. She is, to borrow a phrase, 'interested and interesting.' As an RA, she interacted with scholars with a sincere heart and a desire to engage. She seems equally comfortable and accomplished talking about robotics and STEM in the classroom as she is talking about social and emotional strategies for gifted teens."
Jenny joined faculty in 2019 and taught the minor Breakout!, which took the popularity of escape rooms and turned it on its head. With Jenny's guidance, scholars were tasked with working together to solve clues that lead to opening a breakout box. In 2021, Breakout! was virtual, like the rest of the academy's classes, but it remained interactive and impactful. The virtual minor included simulations and exercises that focused heavily on teamwork.
Jenny's long-term dedication is recognized by colleagues and scholars alike. "I first met Jenny Blank when I was a scholar in 2010 and she was the RA who co-facilitated my minor's PSD sessions," one nominator wrote. "Jenny has consistently found places to be of use and [she has] gone above and beyond the role she was originally hired for to perform when the situation called for it."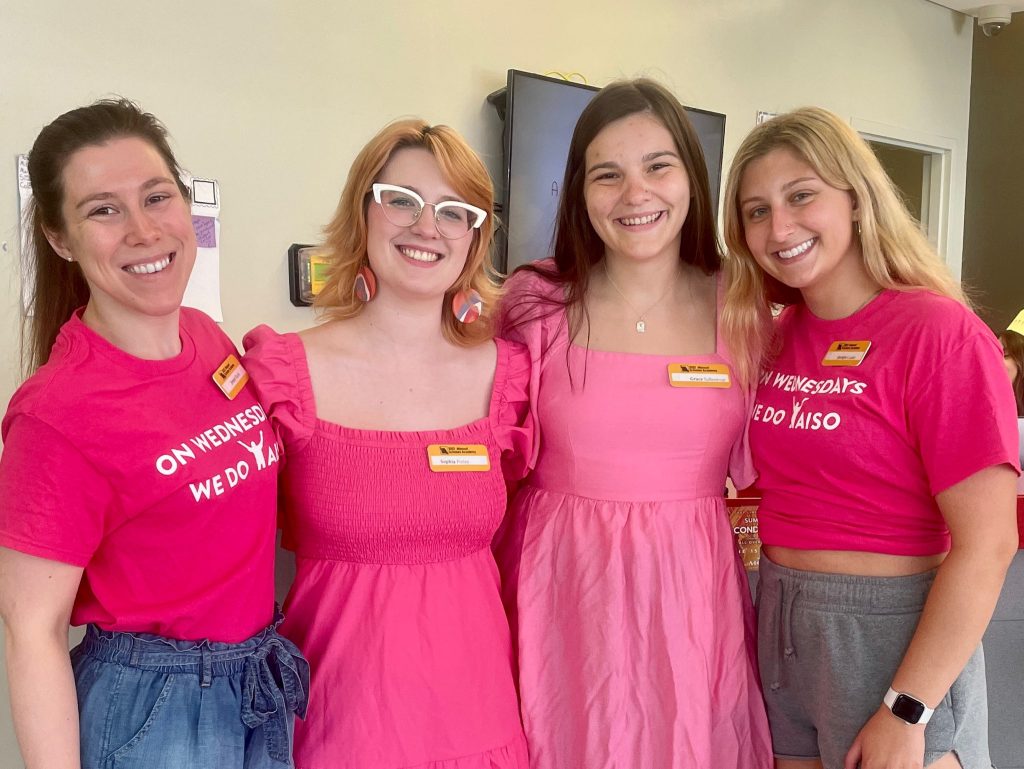 Above and beyond: that was a common trend seen in the nominations for Jenny. She took on many roles during the 2022 Academy, including unexpectedly stepping up to fulfill the Coordinator for Residential Life position. Many colleagues and RAs saw how much responsibility she took on with grace and determination. RA Grace Sullentrup wrote, "Jenny would go above and beyond for the Resident Assistants, finding new and silly ways to connect with the RAs and fostering a community among the RA staff. From creating scientific candy preference studies to crafting cheers to encourage a job well done, Jenny did everything she could to make being an RA safe, fun, and productive."  
Jenny was able to use what she applied in her short time as a minor teacher and Cor: PSD facilitator and implement it in an entirely new position.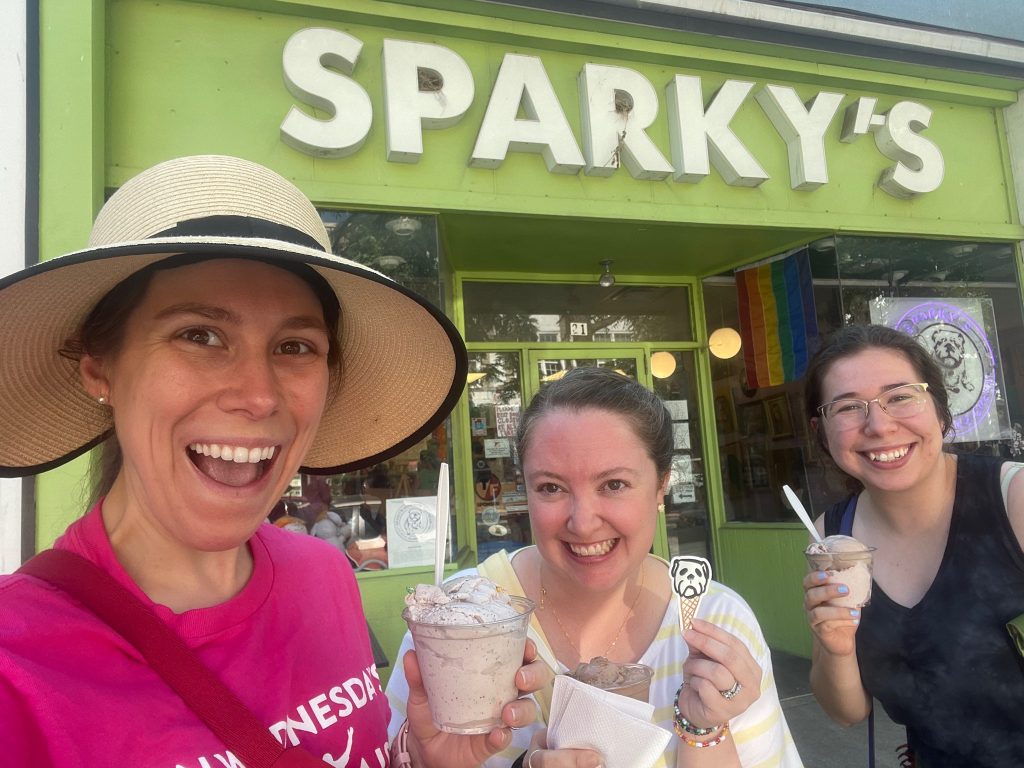 Another nominator said, "She didn't hesitate to step up and take charge when things went wrong; she always had a positive, can-do attitude, and made everyone feel appreciated and valued. Jenny's kindness, authenticity, and dedication to others embody the spirit of MSA. She put scholars and the Academy first at all times, even when that meant sacrificing her minor and sleep schedule." 
The 2022 Academy would not have been what it was without Jenny. She is truly an asset to MSA. Congratulations!
Past recipients of these awards include:
| FIRST NAME | LAST NAME | AWARDED | MSA ROLE / CONTRIBUTION |
| --- | --- | --- | --- |
| Jenny | Blank | 2022 | Coordinator of Residential Life |
| Adela | Caratti | 2019 | Dining Hall Staff |
| Rachel | Harper | 2019 | Co-Director, '18-'22 |
| Dani | Eschweiler | 2019 | MSA '11, RA '18, Faculty '19, '22 |
| Chris | Holmes | 2018 | Faculty '13-'18, '21-'22 |
| Steve | Keller | 2017 | Director '15-'22 |
| Craig | Buschkoetter | 2017 | RA '14-'17 |
| Jordan | Henson | 2016 | MSA '10, RA '13-'15, Faculty '16-22 |
| McKenzie | Pendergrass | 2016 | MSA '10, RA '13-'16 |
| KelLeigh | Bryant | 2015 | MSA '12; Office Staff '14-'19 |
| Mike | Lumetta | 2015 | MSA '09; RA '12, '15 |
| Marjorie | Perkins | 2015 | MSA '10; RA '14-'17; Faculty '18 |
| Doug | Valentine | 2015 | Faculty '12-'22; Asst. Director '22 |
| Tina | Casagrand | 2014 | MSA '06; RA '12-'13; Coord. Comm. Service '14; Faculty '15-'18, '22 |
| Kyna | Iman | 2014 | Lobbyist, 2000-2022 |
| Abigail | Keel | 2014 | MSA '09; RA '12-'14; Faculty '15 |
| Kelsey | Klostermeyer | 2014 | MSA '05, Med. Staff '12-'14 |
| David | Knieter | 2014 | Faculty '12-'14, '16 |
| Stephen | Riesenberg | 2014 | MSA '06; RA and Accompanist '10- '11, '13-'14 |
| Frankie | Bruning Synovec | 2013 | MSA '05, RA '11, '13; Coord. Res Life '14-'19; Res Life Liaison '22 |
| Brady | Deaton | 2013 | MU Chancellor, 2004-2013 |
| Alex | Dzurick | 2013 | MSA '06; Office Staff '12 |
| Kyle | Lovercamp | 2013 | MSA '96; Faculty '11-'16 |
| Sam | Rayburn | 2013 | MSA '05; RA '11-'13; Prog. Coord. & DVD '14-'16 |
| Kurt | Schaeffer | 2013 | Missouri State Senator, 2002-2016 |
| Steve | Senger | 2013 | MSA '98, Faculty '11-'14, '19 |
| Jesse | Garwood | 2012 | RA '09, '11-'12; Med Staff '14-'15 |
| Charles | Hang | 2012 | MSA '07 |
| Adithi | Vellore | 2012 | MSA '07; RA '10-'12 |
| Angela | AuBuchon | 2011 | MSA '98; Faculty '09-'12, '16-'17; Coord. Comm. Service '11 |
| Robert | Bartman | 2011 | DESE Commissioner of Education, 1987-2001 |
| Ronnie | Bass | 2011 | MSA '03; RA '09-'11 |
| Mike | Kersulov | 2011 | Faculty '09-'22 |
| Ryan | Wylie | 2011 | Faculty '09-'13 |
| Christina | Andrade | 2010 | MSA '04; RA '08-'10 |
| Kayla | Bronder | 2010 | MSA '03; RA '07-'08; Coor. Community Service '09; Faculty '10 |
| Kyle | Buschkoetter | 2010 | MSA '09; RA '13, '15 |
| Jennifer | Richards Fisher | 2010 | MSA '04; RA '08-'09; Senior RA '10; Faculty and Coord. Comm. Service '11; Staff Asst '12; Asst. Coord. Res Life '13; Faculty '16-'19 |
| Barry | Still | 2010 | RA '08-'09; Senior RA '10; Faculty '11, '14-'15 |
| Vince | Foley | 2009 | Lead Technology Assistant, '05-'06, '08-'11 |
| Greg | Holliday | 2009 | Psychologist '03-'18; '22 |
| Steve | Ikpe | 2009 | MSA '99; Medical Staff '07-'09 |
| Nicholas | Jain | 2009 | MSA '06; RA '09, '11-'12; Faculty '15 |
| Meredith | Johnson | 2009 | MSA '05; Office Staff '07-'11 |
| Jennifer | Sanders | 2009 | RA '08-'09; Coord. Res Life '10-'14; MU Res Life Liaison '13-'15 |
| David | Weber | 2009 | MSA '06; RA '10-'11 |
| Kate | Blankmeyer Votaw | 2008 | MSA '03; RA '07-'09; Faculty '13 |
| Jay | Johnson | 2008 | MSA '03; Office Staff '06; RA '07-'08 |
| R.J. | Koscienlniak | 2008 | RA '06-'08 |
| Kyndal | Marshall Riffie | 2008 | MSA '03; Office Staff '06-'10; Media Producer '08-'10; Webmaster '11- '14 |
| Justin | Arft | 2007 | MSA '94; Faculty '05-'13 |
| Rose | Briccetti | 2007 | MSA '01; RA '05-'07 |
| Sarah | Jenkins | 2007 | MSA '00; RA '05-'07; Coord. Comm. Service '08 |
| Bill | Palmer | 2007 | Faculty '02, '06-'10 |
| Brian | Stuhlman | 2007 | MSA '93; Teacher Apprentice '00; Part Time Faculty '01; Faculty '02, '07- '22 |
| Laura | Baty Kauffman | 2006 | MSA '98; RA '02; med staff, science, and Comm. Service '04, '06-'07; Faculty '13 |
| Marcia | Chatelain | 2006 | Faculty '03-'07 |
| Jeffrey | Gall | 2006 | Faculty '94-'96; Coord PSD '97 |
| Dan | Glover | 2006 | Graphic Designer and Publications Consultant, '00-'06 |
| Mollie | Hosmer-Dillard | 2006 | MSA '99; RA '04-'05; Part Time Faculty and Coord. Comm. Service '06 |
| Patrick | Jackson | 2006 | MSA Disc Jockey, '00-'06 |
| Chris | Joplin | 2006 | RA '98-'99; Med Staff and Science Assistant, '00 |
| Magda | Mello | 2006 | Dining Hall Staff '99-'11 |
| Michael | Rozier | 2006 | MSA '97; RA '01-'02; Senior RA '03; Faculty '08 |
| Amy | Smith | 2006 | Dining Hall Staff '97-'13 |
| Ian | Wille | 2006 | MSA '05 |
| Silas | Allard | 2005 | MSA '98; RA '02-'03, '05; Coor. Res Life '06 |
| Tom | Bander | 2005 | MSA '96; RA '99-'00; Development Staff '04-'05 |
| Adam | Campbell | 2005 | MSA '93; RA '03; Senior RA '04-'05; Faculty '07, '09, '11, '18; Lead Volunteer '14 |
| Shannon | Ferguson | 2005 | MSA '98; RA '02-'04; Senior RA '05; Coord. Res Life '06-'09 |
| Suzette | Heiman | 2005 | Faculty '96-'09 |
| Ericca | Thornhill | 2005 | MSA '90; Faculty '02-'04, '07, '12, '22; Spec. Asst. '06 |
| Chris | Young | 2005 | MSA '00; Tech Staff, Office Staff, & Photographer '02-'08; Program and Media Coord. '06-'09; Faculty '09 |
| David | Buck | 2004 | Faculty '01-'05; Coord. PSD '06- '07 |
| Ted | Carnahan | 2004 | MSA '99 |
| Margaret | Hagenhoff | 2004 | DESE Administrative Assistant '01- '10 |
| Antwaun | Smith | 2004 | MSA '91; Comm. Service Staff '99; Faculty '03-'04, '07 |
| Travis | Thornhill | 2004 | MSA '90; Comp. Staff '02-'04; Exec. Sec'y MSAAA '04-'16 |
| Kate | Virostko | 2004 | MSA '92; RA '00-'01; Co-Coord. Res Life '02; Coord. Res Life '04-'05 |
| Lucy | Chang | 2003 | MSA '03 |
| Sara | Copeland | 2003 | MSA '93, RA '00-'01 |
| Leslie | Eager | 2003 | MSA '97; RA '01-'02; Senior RA '03- '04; Fac '05 |
| Kenyon | Railey | 2003 | RA '01-'02; Medical Staff '03 |
| David | Welch | 2003 | Co-Director '93-'09 |
| Ila | Guthrie | 2002 | Dining Hall Staff '85-'02 |
| Nicholas | Kirschman | 2002 | Faculty '99-'06, '09-'22 |
| Ryan | Moore | 2002 | MSA '91; RA '95-'97; Asst. Faculty and Program Staff '00-'01; Faculty '02-'03 |
| Eric | Rogers | 2002 | MSA '90; RA '94-'97 |
| Kevin | Wolf | 2002 | RA '86; Senior RA '87-'89 |
| Jerry | Wright | 2002 | Quick Copy Service '95-'02 |
| Alex | Campbell | 2001 | MSA '93; Office Staff '96; RA '97, '99; Medical and Science Assistant '01 |
| Nancy | Fischer | 2001 | Faculty '99-'09 |
| Steve | Ornes | 2001 | MSA '90; RA '95, '97-'98; Faculty and Program Staff '01; Faculty '02- '05 |
| Tyler | Perrachionne | 2001 | MSA '01 |
| Jenelle | Beavers | 2000 | MSA '95; RA '98-'99; Senior RA '00; Coord. Res Life '01, Assoc. Director '17 |
| Hoa | Ngo | 2000 | RA '97-'99; Senior RA '00; Coord. Res Life '01; Asst. Instructor '03-'04 |
| Mike | Todd | 2000 | MSA '94; Office Staff '98-'00; Faculty '04 |
| Rick | Vogt | 2000 | MSA '88; RA '92, '94-'95; Coord. of Technology '98-'01; Faculty '03, '05, '08 |
| Sarah | York Moore | 2000 | MSA '90 |
| Pat | Garrett | 1999 | RA '95; Faculty '96-'02 |
| Frances | Logan | 1999 | Dining Hall Staff '85-'99 |
| Mike | O'Brien | 1999 | Faculty '93-'00 |
| Robin | Wenneker | 1999 | MSA '85; Office Staff '88 |
| Jeannie | Bealer Harding | 1998 | MSA '86 |
| Jim | Meyer | 1998 | MSA '90; RA '94-96, '98; Program Coord. '97, '99-'00; Exec. Sec'y MSAAA '99-'01; Faculty '01-'11, '14- '15; Coord. PSD, '08-'16 |
| Joan | Potthast | 1998 | Faculty '96-'11 |
| Don | Arni | 1997 | Faculty '87-'88, '90-'09 |
| Leasa | Kowalski | 1997 | MSA '96 |
| Karl | Qualls | 1997 | MSA '87; RA '91-'92; Program Coord. '93-'94, '96, '98; Faculty '99- '00 |
| Nancy | Singer | 1997 | Faculty and Yearbook '90-'93; '95- '00 |
| Frank | Corley | 1996 | faculty '92-'98, '07-'22; Coord. PSD '00-'05 |
| Dan | Massey | 1996 | MSA '89; Office Staff '93; Computer Specialist '94-'96; Chief Technology Specialist '96 |
| Kristin | Moore | 1996 | MSA '88 |
| Tom | Byrnes | 1995 | Faculty '92-'95 |
| Paulina | Pranschke | 1995 | MSA '91 |
| Chad | Prewett | 1995 | MSA '89; RA '93-'96; Faculty '01- '02; Exec. Sec'y MSAAA '02-'03; Coord. Res Life '03 |
| Anna | Rybolt | 1995 | Quick Copy Service, '85-'94; Deceased '96 |
| Manuel | Tatayon | 1995 | MSA Lead Security Officer '85-'88 and '90-'97 |
| Jack | Dykes | 1994 | Res Life Custodial Services '85- '94; Deceased |
| Jason | Fletcher | 1994 | MSA '91; Office Staff '94-'95 |
| Stuart | Shaw | 1994 | RA '89; Asst. Instructor '90 |
| Allena | Volskay | 1994 | MSA '91 |
| Kim | Fischer Redinger | 1993 | MSA '87 |
| Roger | Richardson | 1993 | Faculty '90-'07; Deceased '12 |
| Andy | White | 1993 | MSA '87; RA '91; Senior RA '92-'93; Faculty '04-'05 |
| Karen | Davis | 1992 | Faculty '87-'90, '92-'93 and '95-'99 |
| Toby | Gilk | 1992 | MSA '85 |
| Heather | Kirkpatrick | 1992 | MSA '85; RA '89-'97; Asst. Coord., Res Life & PSD '98-'99 |
| Tonya | Lane | 1992 | MSA '85; RA '89-'92 |
| Betty | Prather | 1992 | Dining Hall Manager '86-'94 |
| Ake | Takahashi | 1992 | Faculty '88-'22; Taiso Master forever |
| Monica | Cawvey | 1991 | MSA '87; Office Staff '90-'91; RA '92- '94; Asst. Instructor '97; Faculty '98- '00; Lead Development Officer '06 |
| Keith | Elmore | 1991 | Coord. PSD '85, '87, '89-'96, '98-'99 |
| Bill | Nelson | 1991 | Faculty '85-'86 |
| Bill | Northrip | 1991 | Faculty '86-'87, '89-'91; Deceased '99 |
| Carla | Schlink | 1991 | Administrative Associate '87-'09 |
| Bryan | Watson | 1991 | MSA '87; Office Staff '90-'91; RA '92- '93; Senior RA '94; Law Workshop '96 |
| Patty | Wells | 1991 | Sr. Secretary '87-'94 |
| Bill | Young | 1991 | Faculty '88-'89 |
| Tina | Crayton | 1990 | RA '88-'89; Senior RA '90-'96; '98; Asst. Coord., Journalism '99; Coord. Residential Life '00 |
| Vicki | Jones | 1990 | Faculty '88-'95, '97-'98 |
| Angela | Wilson | 1990 | MSA '88 |
| Julia | Alsobrook | 1985 | RA '85; Hall Coord. '86; Coord., Residential life '87-'99; Asst. Journalism and Community Service '00; Faculty '04 |
| Doug | Anthony | 1985 | RA '85-'88, '90; Asst. Instructor '92; Program Coord. '95 |
| Mike | Bancroft | 1985 | Faculty '85-'91 |
| Ed | Grooms | 1985 | Faculty '85-'86, '88-'09 |
| Bill | Heyde | 1985 | Faculty '85-'99, '01-'06 |
| Lou | Jobst | 1985 | Faculty '85-'15 |
| Kim | Moody | 1985 | RA '87; Program Coord. '88-'92 |
| Paul | Rahmoeller | 1985 | Faculty '85-'15; Special Staff '16-17; Coord. PSD '18-'22 |
| Bob | Roach | 1985 | Co-Director '85-'92; Deceased '11 |
| Dexter | Schraer | 1985 | Faculty '85; Program Staff '86-'87; Coord. PSD '88; Coord., Special and Alumni Events '89-'99 |
| Ted | Tarkow | 1985 | Co-Director '85-'14 |